5G-EMERGE; solutions for the satellite-enabled 5G media market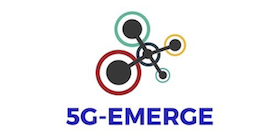 The 5G-EMERGE project aims to develop solutions that leverage 5G technology and satellite broadcasting to put Europe at the vanguard of media delivery technology. The project is part of the European Space Agency (ESA) programme of Advanced Research in Telecommunications Systems (ARTES) and will be led by the European Broadcasting Union (EBU).
The 5G-EMERGE project plans to develop an integrated satellite and terrestrial system based on open standards to enable high-quality content distribution services over multi-layer IP infra-structures. Telecommunications satellites will efficiently deliver high-demand content, including streaming of live events, as close as possible to the end user – to the 'edge'. The project includes demonstrations in 5G base stations, users' homes and vehicles.
SixSq's role in the project
SixSq's contribution includes leading the demonstration work package and providing the edge-to-cloud software infrastructure based on its Nuvla B2B SaaS platform and marketplace of containerised applications, as well as its open source NuvlaEdge software.
5G-EMERGE Consortium
A consortium of 20 companies from six European countries will collaborate on developing the distributed edge technology and service-delivery features.
Arctic Space Technologies
Arthur D. Little
Athonet
Celestia Technologies Group
EBU
Fondazione LINKS
FTA Communication Technologies
G-Core Labs
MBI
Nagravision Sàrl
Nagravision AS
Rai
RomARS
SES Techcom
SixSq
Telenor ASA
Telenor Satellite
Telenor Maritime
TNO
Varnish Software
ViaSat Antenna Systems